Mount Pulag Sample ITINERARY
Here is the sample itinerary
DAY
DESTINATION/ITINERARY
TIME
Day 1
ETD from Baguio (Victory Liner, PNR)
5:00 AM
ETA to Bokod, Benguet
8:00 AM
DENR Orientation
8:30 AM
Off to the Ranger Station
9:30 AM
ETA Ranger Station
10:00 AM
Pitch Tent, Fix stuff, gather firewood for bonfire
(Guide will help but campers are encouraged to take some responsibility as it is a group camping activity)
11:00 AM
Lunch
12:00 NN
Siesta
2:00 PM
Stroll around the community; check the vegetable gardens
3:00 PM
Coffee by the Lake
5:00 PM
Sunset viewing
5:30 PM
Dinner
7:00 PM
Free time
8:00 PM
Lights off
9:00 PM
Day 2
Wakeup call
12:00 MN
Start of trekking
1:00 AM
Reach Camp 1
2:00 AM
Reach Camp 2
4:00 AM
Mt. Pulag Summit (Sunrise viewing/sea of clouds)
5:15 AM
Descent from the Summit
8:00 AM
Back to Camp 2
10:00 AM
Camp 1
11:00 AM
Ranger Station/Brunch
11:45 AM
Pack-up; freshen up
12:30 PM
Lunch
2:00 PM
ETA Baguio
4:00 PM
WHAT TO BRING
At least 2 windbreakers

Flashlight (each)

Gloves

Scarf

Comfy hiking shoes

3 pairs of socks

Blanket/sleeping bag

Thermal Mat

Extra battery pack/power bank

Camera

Snacks/bread/chocolates/water

Medicines

Raincoat

Plastic bags

Light walking stick/tungkod

Tent (in case you have) or rent 150 per head good for 2-3 Persons

THINGS TO EXPECT

Have your breakfast before the departure.

Weather is unpredictable in the place (wish to behold the sea of clouds); however, with or without the sea of clouds, the place remains magnificent with its best sunrise view.

Temperature may be around 6-10C during ber months

Requires physical stamina

Zigzag road going to Mt. Pulag (warning to those who have motion sickness)

For exclusive tours, request to change the itinerary may be done at least 5 days before travel.

Each traveler must present a valid identification card before travel to ensure security.

Tip is not obligatory but appreciated

Great memories for you; delight in the moment before taking photos to maximize the experience

*MEDICAL CERTIFICATE is a must.

*NO Medical Certificate No Climb.
WEATHER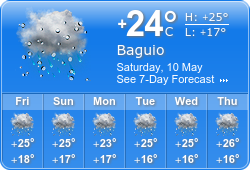 Don't forget to share to Facebook, Twitter or other social media so other may benefit as well 🙂
If you found errors, email us at [email protected]